"Maleta and go!" My grandmother cheered. The jeep was ready and our bags were packed. We were ready to hit the road with no real itinerary. I could see where I got my travel genes from. Our family Dominican Republic road trip began in Santo Domingo, La Capital. Getting out of the capital is often a bit of a jigsaw puzzle, so we were happy to abscond from the city in the early morning to avoid traffic.
Recently updated: July 28, 2019
Related Blog Post: Top 10 Best Places to Visit in the Dominican Republic
Dominican Republic Road Trip
BANI
After an hour driving west, we reached the small town of Bani where my cousin Cindy's father is from. She was beaming with glee to finally see her dad's hometown. "We have to try the mangos and buy the dulces in Bani!" she'd been exclaiming for months before we even got to D.R. So try the mangos we did. They are, arguably, the best mangos in the world. I was floored. Literally, here I am sitting on the floor cradling a basket of ambrosia, errr–I mean mangos. The dulces (candy) were OK. Too sweet for my liking but those are Caribbean sweets for you! Electrifyingly sweet.
Thirty minutes west of Bani, and it was clear we had left the humid smog of la capital for arid deserts and non-developed terrain. Just miles and miles of mountains, rivers, olive-hued bushes, and bright blue skies. The road south, leaving Bani didn't look at all like the Carribean. It was as if the Caribbean and the atlas mountains of Morrocco had a baby.
"Take out your camera," my uncle squealed with excitement. We were approaching a precipice on the side of the mountain road into the province of Barahona.
BARAHONA
"La Riviera Dominicana", he announced in a dramatic and dreamy tone. Standing at the edge of this beautiful view, I could feel a lush and dry clash in ambiance. I was gazing below at the Dominican Riviera near San Rafael in the Barahona province. I couldn't see a single home or business built on this beautiful mountain terrain. Everything was covered in trees and virginal greenery. It would make for a killer condo/hotel view, I thought apprehensively. I can only hope that the Dominican government preserves these last ecological masterpieces.
LOS PATOS
It was nearing lunch time. My stomach began to growl just in time to reach Los Patos beach for food. The waves at this beach were loud and intimidating. The water wasn't alluring anyone for a swim, but the vibrant neon blue tones reflecting off the sea were hypnotic. Like a song from the mythical sirens of the sea. What else was beyond the larimar-colored waves? A pristine untouched cayo? Would I hit the other side of the bay? Or were we standing south towards South America, only 300 miles away?
"AYE! YA 'TA LA COMIDA," my grandmother's screech snapped me out of my reveries. The family who we negotiated a price for a home cooked meal almost an hour ago, finally came out with platters of freshly caught fish, tostones, arroz con gandules, and bottles of Presidente. It was simple but majestic. A simply majestic meal on one of the most beautiful beaches I'd ever set eyes upon. I'm hungry just thinking back to this food. Take me back!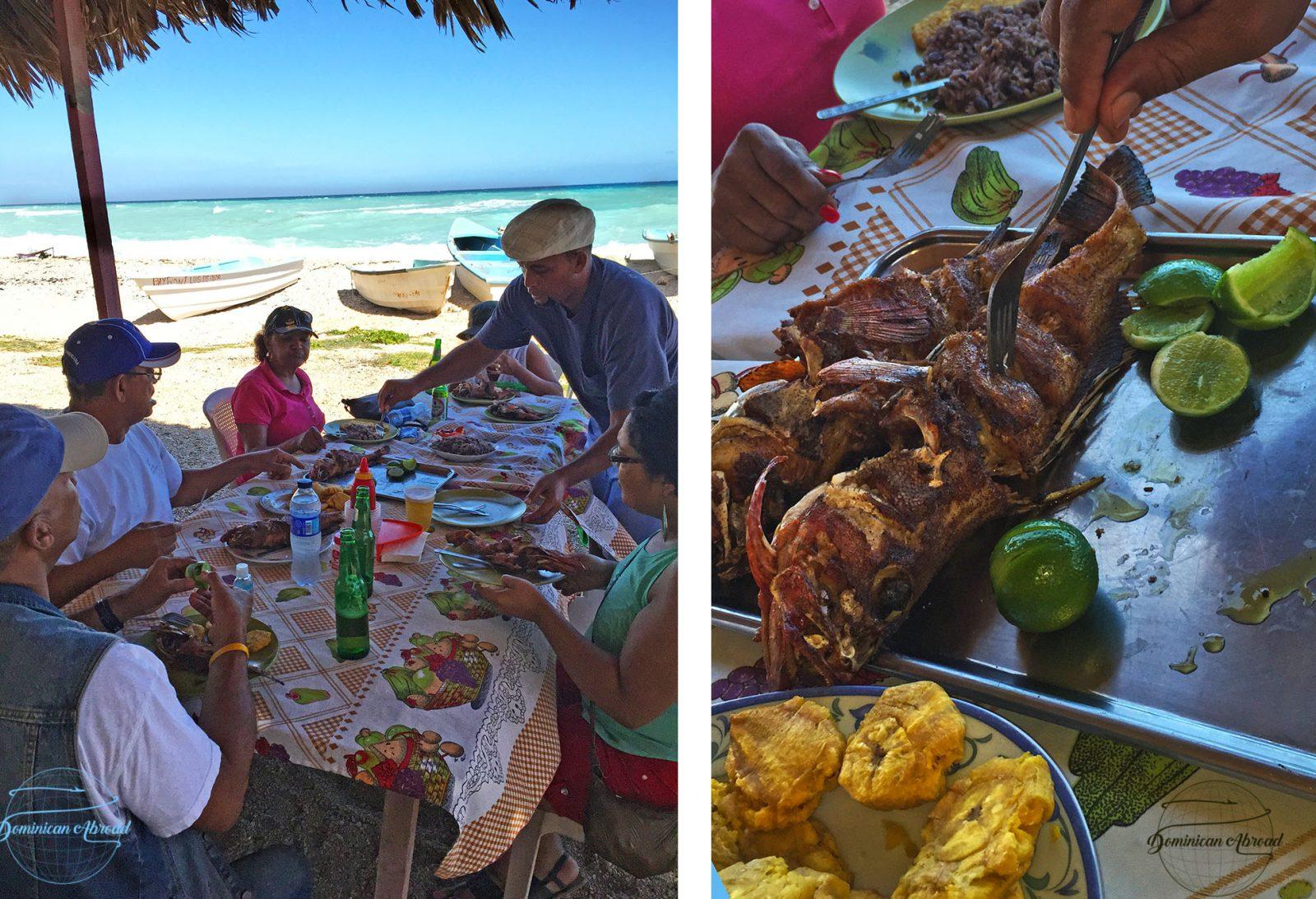 In a futile attempt to walk off the delicious fried food we reached Rio Los Patos, the world's smallest river according to my very scholarly uncle. Again, more crystalline and less polluted waters than the tourist areas near mass commercialization.
PEDERNALES
My cousin and I briefly stepped into Haiti before the majority of our family began screaming and begging us to turn back. In addition to the Haiti-D.R. tumultuous relations, they were scared we'd get attacked for being foreigners. The immigration officers looked at us like we were crazy and asked what we wanted to go into Haiti for. The Dominican border patrol almost threatened us, "We can't protect you once you cross that line. If you're attacked there is nothing we can do from this gate." Haitian folks began hovering over to us, curiously. A Haitian man asked me if I needed anything from Haiti. My uncle began screaming and I'd never seen him look so disheveled and emotional. The crazy energy got to us, so we turned around and complied like two resentful toddlers. A la prochaine, Haiti… Below is the Haitian border:
Resting up in the malecon (ocean boardwalk) of Pedernales after an eventful day. Enjoying the sunset while drinking some Presidente's and playing Dominoes with our new Pedernales friends.
We had spent the previous night in a dingy motel where the shower was a part of the bedroom and the existence of our ceiling was subjective. My aunts, uncles, and cousins had gone dancing in the town's square, the night before. My grandmother and I contently stayed in to make sure we got lots of rest. Like grandmother like granddaughter.
BAHIA DE LAS AGUILAS
"This is going to be the best beach you've ever seen in your life" my uncle guaranteed me the next morning, as he sipped on his morning cafecito.
We drove southeast from Pedernales until we reached the pier in front of Las Cuevas (the caves– this place is by huge open caves). A man with a small speedboat hobbled over to us and we paid him to take us all to the beach. As a prelude, we passed beautiful rock formations with tiny beaches in between. I wanted to shout "Leave us here!" every 2 minutes. Wouldn't you want to go for a swim here?
The speedboat finally arrived at Bahía de Las Águilas beach. My uncle was right. It really might be the best beach in the world. It is pristine and untouched. It's the type of beach they use as desktop wallpapers. The type of utopia you dream about. The kind of beach people fly thousands of miles to see, only to realize it's not really like the pictures. This one was better than any photo I could take.
We had 14 kilometers of fine white sand and crystal-clear blue waters, all to ourselves. It was paradise. We ate Bani mangos and drank some Presidente beers. Then we snorkeled around embracing the crystalline waters:
LAGO ENRIQUILLO & LAS CARITAS
The next day, we decided to loop around Lago Enriquillo and stopped by Jimani. The Haitian border was, even more, intimidating here. This truck was stuck at the border for hours:
We made another road stop in front of Lago Enriquillo to see Las Caritas – Parque Nacional. This ancient cave goes back to the time of our indigenous Taino ancestors. The Taino's were sadly slaughtered and wiped off the island when Colombus (the romanticized rapist thief) came plundering through our island. Anyway, it was a fun walk up these slippery limestone stairs. Wear the right shoes!
These faces and symbols were carved by the Taino people. I kind of wish they'd left us something more insightful than smiley face emojis, but… I am grateful we're left with some remnant of their time on the island. Definitely wear sturdy shoes, the natural limestone steps are very slippery.
LAS MARIAS & NEIBA
The greatest thing about our road trip exploration throughout the Dominican Republic was being able to stop at beautiful sites as we pleased. We wouldn't have otherwise seen or been able to discover these gorgeous gems if we had been in the back of a tour bus, or worse- stayed in a resort in Punta Cana. My uncle parked the car and we walked up to see the crystalline, bright emerald river of Las Marias in the town of Neiba. I watched the local children effortlessly climb up trees and jump into the water without a second thought. They swam as graciously as the fish from the Los Patos River.
After eating in a restaurant located in the backyard of a lady's home in Neiba, we continued our loop around the Southern tip of the Dominican Republic en route back to La Capital. We passed more rustic "Wild Wild West" towns like the photo below. I hope this pig had a prosperous life… Looks like he was soon to be this family's dinner!
We found lots of side-of-the-road shops selling the local precious stone, larimar, in bottles. We also found local wine, honey, oils, fruits, pilones, and coconuts!
Dominican Republic Road Trip – Conclusion
I had never experienced such a clash of topography, smell and ambiance concentrated in one region. This is absolutely a trip that is off the beaten path in the Dominican Republic, and yet safe to travel through. I find that the farther you leave a heavily touristed area, the safer it can sometimes be. People aren't yet so jaded by watching foreigners flash their luxury, reminding them of what they don't have. They haven't gotten on their knees to beg a tourist to buy their items or services. And they're still curious, friendly, and will find the experience of meeting you refreshing. Please travel here sustainably and mindfully.
If you liked this Dominican Republic road trip itinerary, check out my Pico Duarte Guide! & don't forget to check out our off-the-beaten-path tours: