The water sports town of Cabarete is a hidden gem in the Dominican Republic. It's easy to spend days, months, or even become an expat here due to the warm community vibes and inspirational access to fitness and healthy lifestyles in this cozy beach town. But what makes Cabarete so special is that prioritizing your wellness is a value many in the community share. Here, wellness lifestyle habits can come more naturally with its healthier restaurant options, abundant outdoor/water activities, and contagiously relaxing vibes. So if you're debating whether to head over to visit Cabarete on the Dominican northern shores but want to know what there is to do… Here is a travel guide to 15 amazing things to do in Cabarete!
Take Kitesurfing Lessons at Kite Beach
Cabarete is one of the best places, not just in the country, but in the world for kitesurfing. About a mile from Cabarete downtown is the popular Kite Beach where you can either sign up for kite surfing lessons or watch in awe as the local kite surfers leap high into the air with moves that almost defy gratify. Other options for kite surfing include La Boca and Bozo Beach.
Go Surfing or Take Surfing Lessons in Playa Encuentro
The northern shores of the Dominican Republic are home to some of the most popular surfing communities in the country. Playa Encuentro, less than 5 miles from Cabarete downtown, is one of the best beaches in the Dominican Republic for surfing, especially if you're a beginner. Surfing lessons average to about $50 for a 2-3 hour lesson. Prices depend on the business and lesson package. You are free to rent surfboards without lessons if you wish.
I stayed at El Encuentro Surf Lodge which is a few minutes walking to Encuentro Beach where I took a morning surf class for beginners. My lesson was with Pau Hana Surf Camp. And I couldn't believe they actually got me to stand and surf on baby waves not once or twice, but THREE times! Another Dominican-owned surf school in Playa Encuentro is Ocean Academy DR.
Half-Day Trip to Wilson's in La Boca
This Dominican-owned restaurant sits at the foot of the Yasica River just before it meets the ocean. So the views are uniquely beautiful: part beach and part river with a few local kite surfers enjoying the perfect combo in a relatively remote and low-key area. The cooks take you back into their kitchen where you choose your fish and weigh it. For about $8-10 USD you can enjoy an entire fish cooked over a wood fire with tostones, rice, and salad. It is one of the best and tastiest meals you can have in the Dominican Republic.
Getting to La Boca (about 15 minutes from Cabarete downtown) is a little adventure within itself and requires either an SUV or a proper motorcycle since you'll be driving over/around streams of water, puddles, rocks, and sand. When you reach the end of the road, you will take a free boat over the river to this special restaurant! In my humble opinion, this is one of the best things to do in Cabarete! And I can't wait to go back. 🙂 Here is Wilson's La Boca Facebook page.
Volunteer with Cabarete Sostenible & Learn Permaculture
Created during the COVID-19 pandemic to confront food insecurity, Cabarete Sostenible provides food aid to vulnerable homes throughout town and opened the first and only community garden and community farm on the north coast. At the gardening spaces, volunteers can learn permaculture, urban gardening, and organic agriculture techniques, all while giving back to those in need in an open and safe location. Gardening is hands-on so remember to wear comfortable clothing, closed-toed shoes, and headwear!
Cabarete Sostenible frequently hosts art and cultural events and plant-based gastronomic experiences with a focus on sustainable development for and by the people. Sign up to volunteer via their website.
Explore the Local Gastronomy
Cabarete while smaller than other Dominican cities and towns offers an array of unique restaurants and delicious cuisines to try. Most of these are all within walking distance of each other so you can create your own foodie tasting tour! Here are some of our favorite places to eat in Cabarete:
Casita de Papi: This restaurant is on the beach and the most popular dish is the coconut curry langoustine.
Wilson's La Boca: Mentioned above
La Cabana: Breakfast and brunch restaurant
Vagamundo: Really cute and spacious interior. Try the waffles and smoothie bowls!
El Cocotazo Cafe: Offers healthy, gluten-free, raw, and vegan options. Beautiful interior, located on Kite beach with beautiful views of the sea.
Gorditos: Low key, tex mex restaurant located in the center of town. Try the California salad.
Fresh Fresh: Popular Dominican chain around the island. Known for their cute interiors and healthier food options. You can try their wraps, smoothie bowls, salads and much more!
Local vendors on the beach in Playa Caleton: Nothing beats a whole fried fish with tostones on the beach!
Go on a Horseback Riding Tour
If you're visiting Cabarete, you can take a tour by horseback or even sign up for some lessons. There are a few cool places to try this out, the first is at the luxurious Sea Horse Ranch's equestrian center. Here you can take professional lessons and/or go on a tour through the beach and the woods. The property is stunning and offers gorgeous villas for rent. This could be the perfect package for a group or family trip.
Another cool and more local option is at Rancho Luisa & Tommy. Here you can do horseback riding tours through the mountains and rivers with a local family. Full day or afternoon rides are offered. No website. Call: 809-986-1984.
El Choco National Park
Just a 15 walk from the center of town, you can visit El Choco National Park. Of all the cool things there are to do in this park, the most popular is the privately managed caves with opportunities for swimming. There's also a lagoon, trails for hiking, mountain biking, horseback riding, and bird/ lizard watching. There's also an option for guided tours of local plants, trees, and fruits (including cacao). When you reach this park entrance, you will be greeted by guides whom you can hire to take you around.
$10 USD for locals and $20 USD for tourists. Be sure to wear sturdy shoes for the walk down the caves.
Stand Up Paddle Boarding
If surfing or kitesurfing feel way too extreme for you, then maybe consider something a bit calmer: paddleboarding. You can go paddleboarding in lagoons or calmer rivers (such as Rio Yasica). The different businesses in the area can rent you a board and possibly offer a lesson + ride!
Tubing at La Boca de Yasica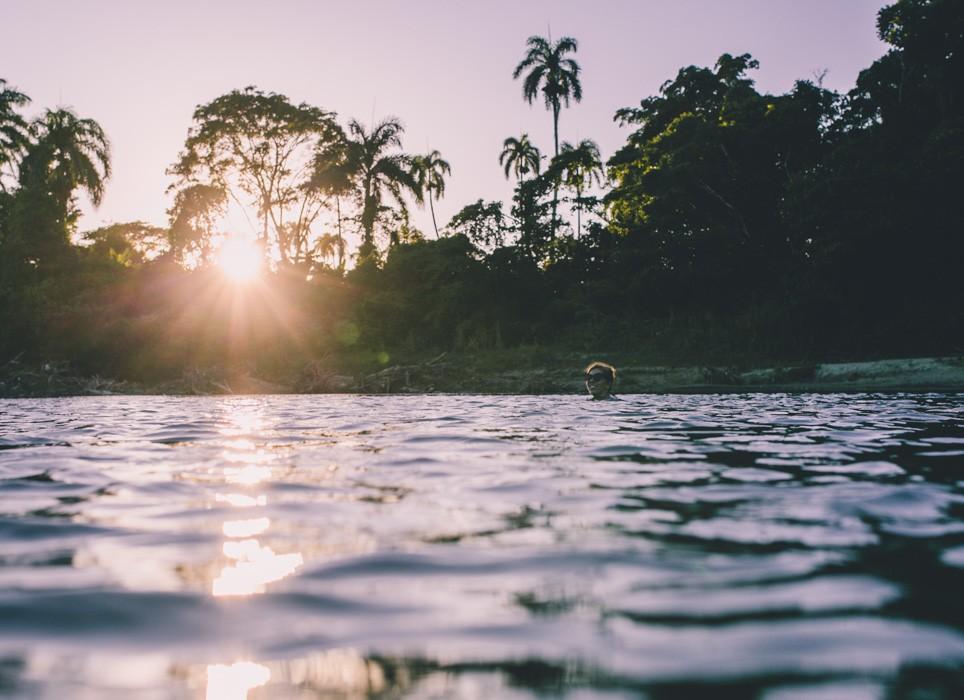 Tubing is a very fun way to relax and cool down as you float down the Rio Yasica between the green rolling hills. Dominican local, Frank organizes two-hour tubing tours with different stops along the river. The cost is $55 for adults and $40 for children under 13. This includes transport to and from downtown Cabarete, the tubes, a floating fridge of water, juice, beers and rum, and a typical Dominican lunch at the end with fresh coconuts! Call him via Whatsapp at 829-370-7715 to arrange a tour.
Get Pampered with a Massage or a Trip to the Spa
There are several places in town where you can get a massage, check into a spa, get a pedicure or manicure and pamper yourself. Just take a stroll through the town or check out the local businesses including hotel spa services. Prices range from $20 USD to over $150 USD.
Explore the Local Nightlife
The nightlife in Cabarete is relatively more chill, but you can still find bars and places to go out at night. Below, are just a few places where you can go out at night:
La Chabola — my favorite (live music, tasty pizza, and good vibes)
Mojito Bar
Voy Voy — live music on Sunday's
Lax Ojo Cabarete — for dancing
Leaf — lounge on the beach
Day Trip to Playa Caleton

If you're looking for a calmer beach to visit on the northern coast check out Playa Caleton just an hour east of Cabarete town. Playa Caleton boasts calm emerald-green waters and an interesting decor of sculpture heads at the very end of the beach. Here, you can also sit down and order seafood with an array of side dishes. This is well worth the trip for the food + beach!
Go Shopping
There are tons of boutique shops in downtown Cabarete offering cute clothes, artisan crafts, jewelry, souvenirs, and more. I loved shopping for new bathing suits and cute beach accessories in the shops. You can also stop by the various stands for some fresh coconuts and/or fruits!
Take Spanish Lessons
If you're staying in town a bit longer, for a few weeks or even a couple of months in Cabarete consider Spanish lessons! You can arrange a weekly schedule with a local Dominican to learn one of the most useful languages in the world today. Check out unavainabienspanish.com where you can also combine Spanish lessons with a guided cultural activity package including cooking lessons, dominos, walking tours, and more.
Hang out at the Beach
The most popular thing to do in Cabarete? Go to the beach that's just in town. It's super easy and accessible to reach. Once you're on the beach you can either go for a long walk, relax, get a tan, go for a swim, snorkel, and more. If it's too windy remember to take caution and also to avoid crashing into a kitesurfer.
Enroll in a Fitness Group Class or Private Lesson
It's very likely that after a few days in Cabarete, you'll feel inspired to embrace more fitness into your lifestyle. And that's totally normal here! You can check out the many group fitness lessons all around town at the various gyms in Cabarete. This includes private training, group training, yoga, pilates, and so much more.
I did the group lessons at eXtreme Cabarete which also offers various other fitness classes including trapeze lessons! (Pictured above)
Am I missing something you love to do in Cabarete? List it below in the comments for others to see!
Where to Stay in Cabarete
There are lots of places to stay in Cabarete. But it all depends on your budget and the things you'd like to do.
$ Hostel Laguna Park – A low-cost hostel perfect for solo backpackers, starting at $20/night
$$ El Encuentro Surf Lodge – A lovely place to relax, recharge, and rejuvenate by the pool (pictured above). Prices start at $42/night and up. You can rent a studio or an entire luxury villa. Perfect if you want to learn how to surf since the beach with the surf schools is just a 10 minute walk away.
$$$ Ultravioleta Boutique Residences – For people who want more modern comfort and have higher budgets. Their oceanfront condos start at $200/night.
Interested in reading more of our Dominican Republic blog posts?
Click here to join the Dominican Republic Travel Community.
Pin me for later!