Jarabacoa in the Dominican Republic is located at the foot of the majestic Dominican Alps. An area often overlooked by tourists, most of whom come to the Dominican Republic seeking beach towns or resorts. Thus, the mountain town of Jarabacoa has retained a quaint and underrated beauty, encapsulating an almost spiritual ambiance. With its dark pine trees and lush forests; tall mountains and rejuvenating waterfalls; freshwater rivers and cool hikes– there are endless things to do in Jarabacoa.
If any of the below excursions interest you, send a reservation inquiry here.
NEW!! Jarabacoa Wellness Retreat – Email for 2021 dates
Visit Jarabacoa's Many Waterfalls
1) Jimenoa I Waterfall
They say Jimenoa I Waterfall is where Jurassic Park was filmed (although Kiskeya Life argues otherwise). This is a beautiful waterfall at the corner of massive rock formations that look almost unworldly. Before the hike to this waterfall, you will pass an interesting bean plantation and have a chance to overlook the waterfall from the very top of the lively green hills. Just this beautiful view from the entrance to the start of the hike is well worth the visit. It's a lovely but steep hike, so bring water and comfortable clothing. The way up will, of course, be harder.
No swimming is allowed by the falls during certain times of the year for safety reasons.
Transportation: 15 min by car and then a 30-minute hike down and 45-minute hike up a beautiful path of copper red soil and pine trees.
Cost: $30 per person including transportation and park entrances.
2) Baiguate Waterfall
Baiguate Waterfall is a beautiful waterfall with shallow waters that empty into the Baiguate River. You can walk under the waterfall but during the dryer season, you can't really swim since the water is so shallow at about 2 feet high. The highlight to this experience is the horse ride there which is a wonderful adventure through the roads of Jarabacoa town and then into the lush woods.
You can get here by car (10 min drive) and a short 15-minute walk. Or you can take a horse directly there for 30-50 minutes (depending on how fast you ride) plus the walk down.
Cost: $30 per person includes horse and guide.
3) Salto Secreto (Secret Waterfall)
One of my favorite waterfalls in the Dominican Republic! After a 30 minute drive towards the town of Manabao, you leave the car at a cute storefront with an older who lady sells homemade ice cream and herbal medicinal teas. Then you hike through a finca and at one point walk through a river. So your feet will get wet! Then you reach this awe-inspiring waterfall which you will likely have all to yourself.
Cost: $30 per person.
4) 27 Waterfalls
This is a natural park complex of 27 waterfalls along the Damajagua River. You will slide, jump, hike, and climb up and down these natural limestone water park. It is approximately 2 hours from Jarabacoa.
Cost: $150 for the taxi + entrances per person.
5) Jimenoa II
This waterfall is currently closed due to a storm which collapsed the hanging bridge that connected travelers to the waterfall. This is the easiest waterfall to get to in Jarabacoa. And I would also probably rate this one as the least impressive but the easiest for travelers who don't want to walk much. It's still beautiful to see, but I'd only recommend this one for when it's fixed and if you are looking for a short walk to a waterfall.
Cost: $20 per person.
Related: Check out the 15 Best Places to Visit in the Dominican Republic INSTEAD of Punta Cana
Go on an Epic Hiking Adventure
6) Pico Duarte Hike
This is the tallest mountain in the Caribbean and as such, takes full 3 days to complete. The camp base where the hiking starts is about 45 minutes from Jarabacoa driving. The Pico Duarte hike can be a rejuvenating, spiritual (you will likely find yourself by day 3 of this hike – trust me), and overall special experience for both tourists and local Dominicans alike. At the top of the peak are the mountainous views of the Dominican Alps from thousands of feet above sea level and the Dominican flag with a statue of the country's founding father: Juan Pablo Duarte. A must do for lovers of hiking.
Here is my FREE comprehensive guide to hiking Pico Duarte if you are interested in learning more about it.
Cost: $300 per person (2 person minimum or $450 for one person).
7) Valle de Tetero Hike
The cold Yaque del Sur river runs through the cool lush valley of Valle de Tetero. Located halfway between the Manabao camp base and the top of Pico Duarte, you can easily combine both Pico Duarte + Valle de Tetero as a 4-day hiking excursion. After a day hike to get here, you can set up your tent, go for a swim in the river, make a bonfire to cook your food, and just… relax.
Cost: $400 per person if combine with Pico Duarte as a 4-day tour.
8) Mogote Mountain Hike
If you're limited on time and would rather do a full day hike instead, Mogote Mountain hike is likely your best bet. It's not as quick as the other hikes but takes at least 3 hours up and down to complete. It is is a 4,000 feet climb, with stunning views from above.
Cost: $45 per person (two person minimum).
Relax & Rejuvenate in Jarabacoa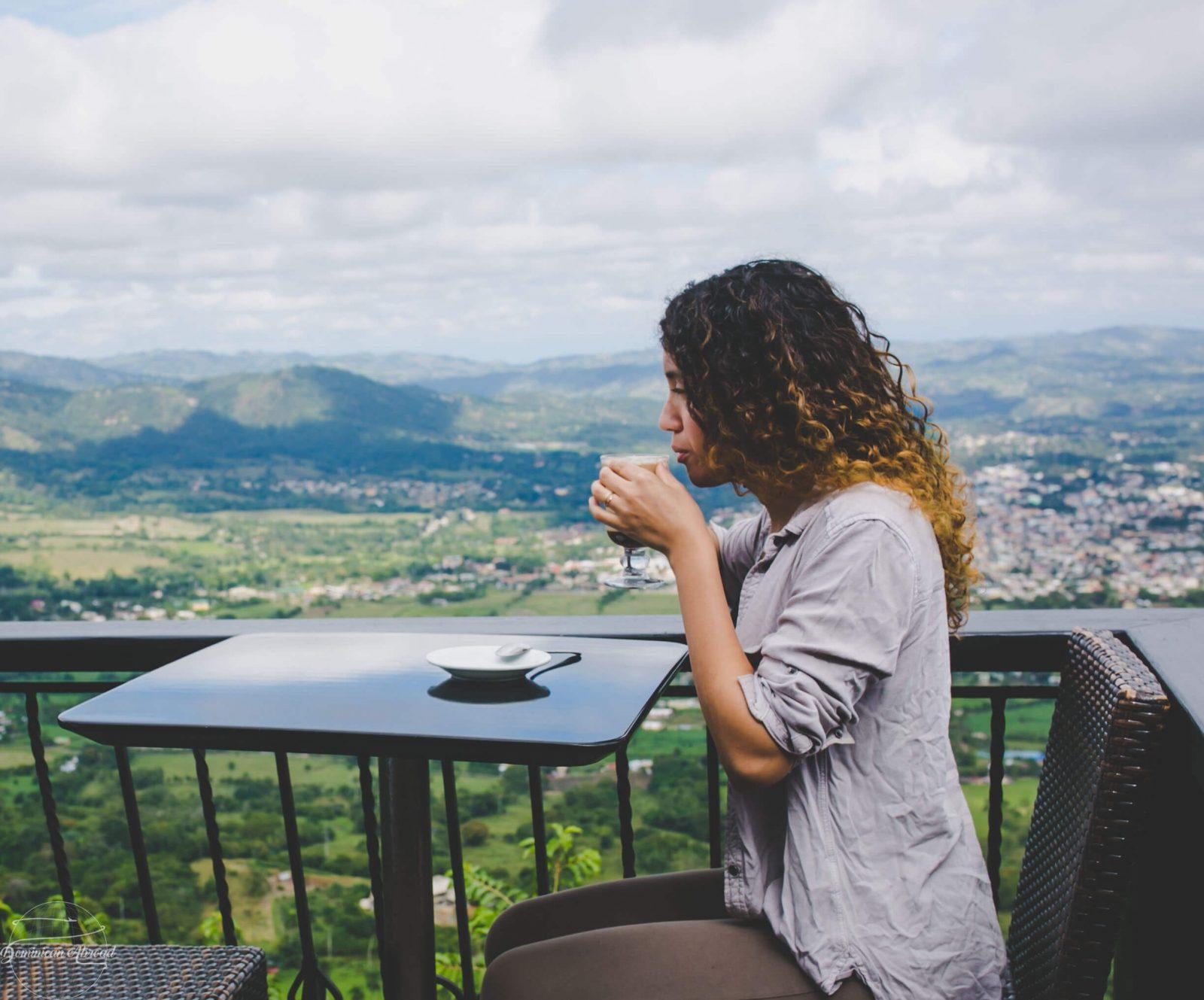 9) Professional Massage + Facial
Get an hour massage by a professionally trained masseuse (Margarita) who comes to your house in a little tuk-tuk. This facial was one of the best I've ever had, and for once I felt a noticeable difference in my extremely sensitive skin! Margarita also gave me one of the best massages I've had in years. This is the cherry on the top of an adventurous and sometimes physically exerting time through Jarabacoa.
Cost: $30/hour for a massage and $25 for a facial.
10) Aroma la Montana in Jamaca de Dios
This is one of the most breathtakingly beautiful restaurants you'll likely visit in the Dominican Republic. Perched at the very top of Jamaca de Dios, a tall mountain residential area, you will find the restaurant: Aroma la Montana. The food here is delicious, but the views of the valley and Dominican Alps alone are well worth the 15 minute drive up.
Cost: Plates range between $10 and $30 dollars depending on what you order. You can always grab a coffee or lemonade if you're on a budget but want to appreciate the views.
Go on an Adrenaline-Filled Adventure
11) River Rafting
Raft down the Yaque del Norte River, the second longest river in the Caribbean with Rancho Baiguate. Depending on the time of the year the rapids can be smoother or a bit stronger. The tallest drop is about 3 meters. This is the perfect experience for both beginners or more experienced rafters.
Cost: $50 per person -includes lunch, a small break with snacks and round trip transportation.
12) Paragliding
Paragliding is a highlight experience for adventure lovers coming to Jarabacoa. You can go with a professional pilot and roam the skies above the Jarabacoa valleys.
Cost: $60 per person
13) Canyoning
Alongside professional guides, descend through canyons, down the Baiguate Waterfall and into the Baiguate River. You can also enjoy the lush woods and go for a swim in the crystalline waters. This excursion is also through Rancho Baiguate.
Cost: $50 per person – includes breakfast and lunch. There is a two person minimum or you can pay $100 to go solo.
Soak in the Local Dominican Culture
14) Have BBQ by the River at the Foot of a Small Village Town
Getting to this part of the river for the BBQ is half the fun. You will go through a local small village, stop by the local shop (colmado) to buy beverages or drinks. And then walk alongside the river and cross it on foot to get to a quaint patch of land where you will all cook together. It's best to start this before sunset and then continue onto the night with a bonfire, drinks, and music.
Cost: $15 per person, minimum # of people required, or a minimum cost amount.
15) Ramirez Coffee Factory Tour
Spanish-speaking tour of a local Jarabacoa coffee factory.
Cost: $20 for two people
16) Exploring the Jarabacoa Nightlife
Party lovers can still partake in fun nightlife fun in quaint Jarabacoa. Take part in dancing and drinking at Entre Amigos disco and bar, or check out Venue Bar & Lounge, or enjoy a bar at Camelot Sports Bar— to name a few nightlife venues.
Indulge in the Jarabacoa's Local Gastronomy
17) Jarabacoa Food Truck Park
This open-air community space is both a children's playground and a food truck park offering an array of international cuisine. For a few dollars, you can take a taxi to this part of town and spend your evening eating typical Dominican food, local Colombian arepas, Mexican tacos, or good 'ole American pizza –to name a few options. The space is adorned with art murals, decorative lights, and colorful tables/chairs to spend a fun or relaxing dinner night. Check out their Instagram here.
18) El Taino Restaurant
Hands down, the most delicious Dominican restaurant in town. It's by no means a fancy place. You will order from an open buffet behind a glass window. In return, you'll be handed a styrofoam box of the different items. But everything was delicious. Especially their rotisserie chicken. Don't miss out on the table sour sauce. If you want to try local Dominican food, this is the place.
19) Tostado
This is the complete opposite of El Taino Restaurant except it's also delicious. Gigantic burgers with sides are their famed dishes here. One burger dish is enough for two people. Non-burger eaters will have other options to choose from. The tables are in an outdoor patio upstairs with a beautiful and modern. Sometimes they have live music.
20) Cafe Colao
A beautiful cafe on an artistic street full of colorful umbrellas. Inside you can get sweets, snacks, and drinks. It gets very busy on the weekends so get there early to snag a good seat.
Day Trip to Constanza
21) Aguas Blancas + Mountain Cliff Natural Pool
Consider a 90-minute ride from Jarabacoa to see the beautiful region of Constanza. This region is home to tall mountains, meadows, valleys, and stunning outdoor opportunities. Aguas Blancas waterfall, pictured above is close to the mountain cliff natural pool which you can combine together for an epic day trip from Jarabacoa.
Fun fact: This region is home to a Japanese diaspora that moved here during the mid-1900s. As such, you may find some remnants of that Japanese influence including communities who still live in the region today.
Where to Stay in Jarabacoa
Jarabacoa Mountain Hostel
The Jarabacoa Mountain Hostel offers budget prices at gorgeous and luxurious quality. It exudes inspiration, tranquility, and just an overall feeling of wholesomeness in nature as you breathe in the scent of pine trees and cool mountain breeze.
Prices range from $14/dorm (pictured above)— to $28/private— to $55/for a luxurious room with your own Jacuzzi. You can also rent an apartment entirely for yourself! You can also use the kitchen to cook your own food if you're looking to save $.
Gran Jimenoa Hotel
Gran Jimenoa Hotel is a high-quality resort-style hotel on a very calming and almost spiritual Gran Jimenoa River. It's a great place to go if you want to have breakfast included, housekeeping and other hotel amenities.
Costs range from $60 to $150/night.
Transportation: How to Get to Jarabacoa
It's super easy to get to Jarabacoa. You can either take a Caribe Tours bus from Santo Domingo for about $5 each way. There is one that leaves every day express (without making stops in between). Or you can hire a taxi for about $100 from Santo Domingo to Jarabacoa or $250 from Punta Cana to Jarabacoa.
Interested in reading more of my Dominican Republic blog posts?
Click here to join the Dominican Republic Travel Community.