Bangkok is special from anywhere else you'll visit. Vibrant. Raw. Pulsating. It's everything hipster cities around the world try to be. There's something in this city for everyone. Shopping, culture, history, exotic and delicious food, short day trips to nature, bustling nightlife, and a never-ending list of attractions. The cool home decor and artwork that you buy in your local Brooklyn or Kyoto market? It was probably imported from the world's largest weekend market in Bangkok! And for a fraction of the price.
However, several travelers I'd met warned me against Bangkok; calling it dirty, congested and/or trashy. So Iike many, I wondered apprehensively: Is Bangkok worth visiting? But I decided to give it a chance anyway… And while it was indeed crowded and not the cleanest… When I looked beyond… it became one of my favorite cities in the world.
Below are some of the best Bangkok experiences by categories along with some useful tips on what to avoid. My top favorite and most memorable experiences are included. I dare you to try some of these and tell me you didn't enjoy beautiful Bangkok!
Cultural Things to Do in Bangkok
Muy Thai Boxing – My friend Brian took us to the free 11 PM show at the Pink Panther. I wasn't excited to see a boxing match since it's really not my thing. But we ended up having a blast watching this match and enjoying one of the best things to do in Thailand. It's one of my highest recommendations for a Thai cultural experience. Muy Thai isn't as brutal as the boxing matches in the U.S., which can get bloody and lurid. Even though it was thrilling to watch, it is a martial art that feels more graceful and respectful than American boxing.
Tawadang – is a beer garden/brewery with a big theatre for live entertainment every night. This is where the Thai folks come to wind down, treat themselves, have a date, and celebrate a special occasion. The cocktails are mediocre (it's a beer garden), but the food is pretty amazing. The grilled fish soaked in Thai spices was one of the best I've ever tried around the world. The shows are wacky, but very Thai and a lot of memorable fun. Don't be surprised if you're the only foreigner here.
Chef Leez Cooking Class – This was the best Thai food I've ever had. Their comprehensive course provides a lesson on every popular Thai dish. From curries to my recent addiction: MANGO STICKY RICE! All while using fresh ingredients (no MSG), and tending to any nutritional restrictions. Chef Leez also wins major points for me because some of their proceeds support a good and local cause.
Best Food & Restaurants in Bangkok
In Bangkok, there seems to be a food stand in every other corner. You'll find coconut stands, fresh juice stands, pad thai, mango sticky rice stands, barbequed meat, for $1 per item. If street food isn't your thing, you will find a variety of restaurants that cater to nearly every palate. Especially in the food court of Bangkok's many new malls. The number of restaurants/spots to eat at is vast and ever growing. So here are my personal top favorites:
Veganerie Concept for Vegan/healthy cuisine in one of Bangkok's most affluent neighborhoods
Above 11 for Peruvian food with a luxurious view
Le Normandie for absolute high luxury with a view. We treated ourselves for my cousin's birthday. This was not cheap for Thai standards, but it's a tiny fraction of what this type of restaurant bill would cost in New York City's Mandarin Oriental.
Tawandang Beer Garden (mentioned above) for seafood and authentic Thai food while watching a live performance.
A cooking class (mentioned above).
Best Shopping Markets in Bangkok
Klong Latmayom Floating Market
This was one of the highlights of my entire South East Asia experience (main photo of this post). There are many floating markets in Bangkok, and most of them have a bad reputation for being too touristy. But this one my Airbnb host highly recommended with the selling point that "there are no elephant pants there!" I ate everything, shopped around, and took a little canoe ride along the canal for 75 cents. I got the last seat next to a group of Thai women who took me in as one of their own. Pointing things out, translating, explaining and sharing. Amazing people, the Thais.
Chatuchak
I think I spent about 20% of my time in Bangkok at the Chatuchak market. I still plan to go back to Bangkok eventually just to finish shopping at the Chatuchak market. All those cute things you've seen in your "local" Brooklyn markets or in the Kyoto flea markets? All bought at Chatuchak and then resold to you for over 10 times the price. Chatuchak is what markets around the world try to be, but are overpriced and not authentic like Chatuchak. Here there is something for everyone. Clothes, watches, wallets, funky food, massages, food, real antiques, home décor, artwork, and so much more. It the biggest market in the world. So bring your walking shoes, and remember to get a massage in between so you can keep going!
There are many more markets in Bangkok. These are just my two favorites.
Best Nightlife in Bangkok
The nightlife in Bangkok is electrifying and exuberant. It is arguably some of the best in the world.
There are dozens of rooftop bars throughout Bangkok. For something cozy yet lush, I suggest Vogue Bar. For a sight you'll never forget, Sky Bar (pictured above) is the go-to spot for the best views in a luxurious atmosphere.
Whatever it is that you're looking for, you're likely to find it in Bangkok. Interested in a low key jazz bar? Check out Bamboo Bar at the Mandarin Oriental, the hotel alone is a beautiful must see.
For Latin music and dancing with incredible cocktails, the speakeasy Havana Social (pictured above) is a hidden gem. I'm waiting for someone to tell me they went there and didn't have a good time.
Most establishments that serve alcohol in Bangkok shut down around 2 AM, which is the only weird downside to its nightlife. For this, Wong's is a lifesaver. It's a real, authentic speakeasy. I'm not even entirely sure if it's a legal establishment.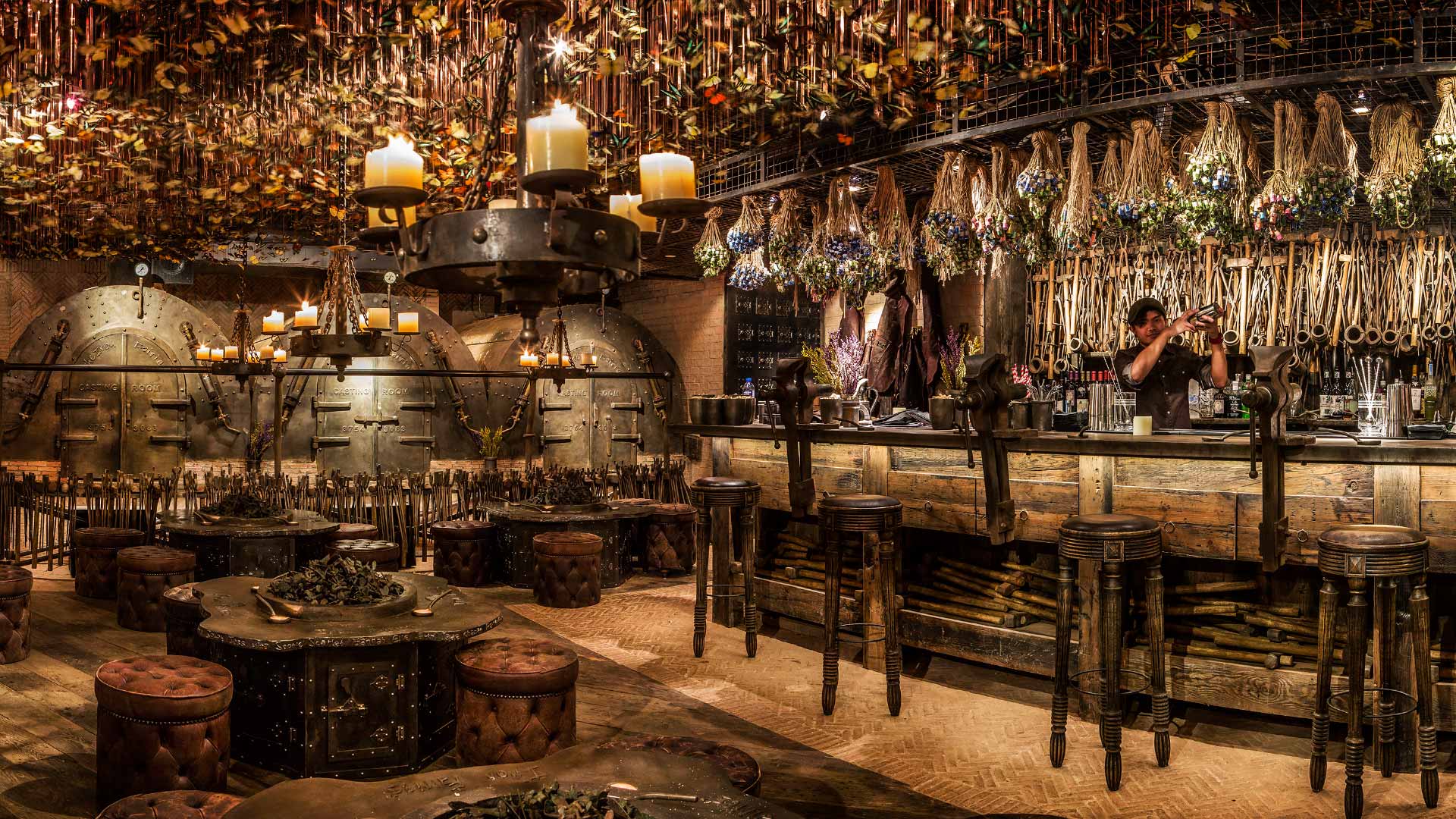 The attention to detail and the dedication to interior design is highly valued in Bangkok. For some of the most beautiful establishments, with an eccentric but archaic flair, I suggest Maggie Choos (designed like an old railway) and Iron Fairies (looks like an alchemist's laboratory). Both have live shows and music sometimes.
For something more local, Tawadang which I mentioned above under "Culture" is incredible.
If you really want to party your head off, check out the links of the best clubs online. From those lists, I recommend C'est La Vie.
Best Day Time Activities in Bangkok
Thailand can be scorching hot during the day time. It's why most of its best attractions are at night. But there are a few things you can do during the day time to make the best of your time here.
Go on a boat ride down the river (also can be done at night)
Get a $5 Thai massage
Take a stroll through Lumphini Park
Visit one of the many temples. (I have never been to one in Bangkok so I can't provide particulars. But Wat Arun seems to be a favorite among locals).
What to Avoid in Bangkok
First and foremost, if you want a deeper experience in Bangkok, you should probably skip Khao San Road. It's a party street made popular by The Beach, where 19-year-old tourists buy literally buckets of liquor to get trashed. It's like the Times Square of New York. Many expats and locals loathe it. Khao San Road is crowded, dirty, loud, and full of promoters begging tourists to visit their clubs or bars.
If that is your kind of thing, just be wary that a lot of shady things go down here as well. A guy at my hostel would fall victim to a bribe set up by the police at Khao San Road. If you're looking for parties, check out the nightlife section further below in this post or stay at one of the top party hostels in Thailand.
Many travelers who've left disappointed with Bangkok usually explained to me that they only did some of the following things: got trashed partying in the red light district, saw a ping pong show, checked out the ladyboy shows (actually an interesting subject), went to Khao San Road, and/or saw some overcrowded temples in Bangkok. I had fallen in love with Bangkok and hadn't experienced any one of these hackneyed pursuits.
Also, it's great to keep an open mind, but something about financially supporting some of these squalid tourist traps rubs me the wrong way. Especially the red light district. Is everyone there working voluntarily? I hope so.
Where to Stay in Bangkok
Finding good accommodation in Bangkok was tricky as a solo traveler. Places were either out of my budget or away from my favorite neighborhoods. Then my nomad friend, Petra, recommended The Cube Hostel. It's been a game changer. It's located perfectly in the Silom neighborhood. Every morning I would head to a little market a block away for $1 fresh smoothies, $1 fresh coconuts, and $1 pad thai. Across from that, is a mall with a supermarket and food court downstairs (try this sushi burrito place) and everything else the mall can offer upstairs.
You can make The Cube Hostel into a place for you to have time to yourself and/or to socialize and meet other travelers. To me, it was a perfect balance for both.
Transportation/Getting Around Bangkok
Transportation in Bangkok is easy, cheap, and plentiful. But please, never take a tuk tuk unless it's simply for the experience of riding one. They are the most expensive way to get around in Thailand. These are the best methods of transportation:
Public Transportation: Bangkok has two different but straightforward and efficient train systems. One above ground and the other underground.
Taxi: If you're not traveling too far or are in a group, it's almost the same price to get around by taxi than the train. Make sure taxi drivers turn on the meter. Do not agree to a fixed price unless you know Bangkok.
Uber: Uber works in Bangkok as well. It's not as cheap as a waving down a taxi, but it's much cheaper (by 50%) to take an Uber from the airport. Click here for $5 off your first 4 Uber rides.
Grab: Expats and Thai locals more commonly use the Grab app than Uber.
Did I miss anything above? Feel free to contribute your favorite Bangkok moments in the comments below!
For a lot of this, I want to personally thank my friend Brian for taking us out on a Bangkok night tour! He's Bangkok's MVP.